WORLD'S LONGEST BUS ROUTE FROM LONDON TO KOLKATA 20,300 MILES
For travelers seeking adventure in the late 1960s and early 1970s though, a mega trip was available for the taking. A double-decker bus dubbed Albert ferried passengers between London and Calcutta. If you wanted to press even farther, the bus was then put on a boat and continued on down to Australia before completing its journey in Sydney.
In the late '60s, a double-decker bus nicknamed 'Albert' made 15 trips between India and UK and about four trips between London and Sydney .
A picture of passengers at the Victoria Coach Station, London, boarding the bus apparently right before its first run on the world's longest coach route–between London and Kolkata–is now going viral online.
The single fare between Kolkata and London was 85 pounds (Rs 7,889) which is pretty expensive given the year the bus service began.
ALBERT's first journey departed from the GPO in Martin Place, Sydney, on Tuesday 8th October 1968, arriving in London 132 days later on Monday 17th February 1969..

..Over the years ALBERT made more than 150 border crossings without ever being held up for serious scrutiny, nor was a bribe ever proffered to smooth the passage; this at a time when other vehicles were all too often seen marooned at check-posts with neither body panels nor owners.

The bus earned universal respect as a friendly ambassador to all countries visited and was always welcomed and smiled upon by officials and the countless friends made along the way for whom the name A-L-B-E-R-T was one they could read, remember and say – in any language!
So ,the story of Albert the bus actually stats down in Sydney not in London. Its first trip started in Sydney on October 8th, 1968. The trip to London took 132 days, with Albert finishing its wild route on February 17th, 1969. Then Albert turned around, to repeat the journey in reverse. Over the course of the next few years, Albert would ten more trips between London and Calcutta. The 10th trip overall saw Albert return all the way to Sydney, and the 11th trip was from Australia back to London to continue with more trips between England and India. There was a 16th trip planned, but the political and revolutionary upheaval in Iran in 1976 put a stop to that.
According to reports, 'a year-round timetable' was drawn up for a regular service between London, Kolkata and Sydney in what was called Albert Tours. High Road For Oz goes on to say that all the trips numbered 4, 5, 6, 7, 8 and 9, ran right through to Sydney. The trips numbered 12, 13, 14 and 15 operated between London and Kolkata. On arrival in India, the bus made stops in Delhi, Agra, Banaras and Kolkata.
Going by the schedule shown above, a July 25, 1972 departure from London got passengers to Kolkata by September 11, 1972. That made it a journey of 49 days at the time. Quite the adventure, indeed.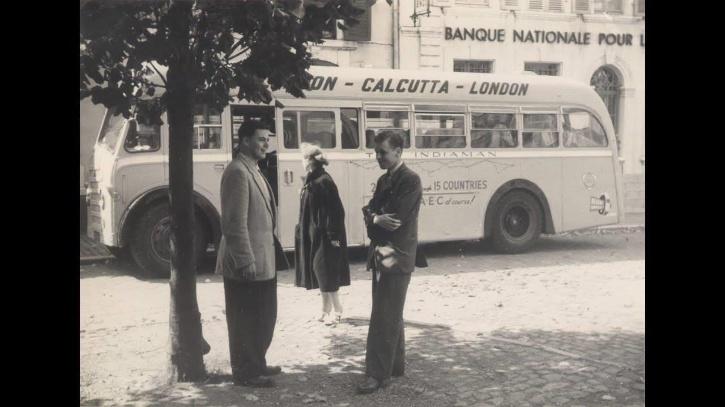 Twitter/@RKDasgupta
The bus also had some extra 'luxury services' like a reading and dining room at the lower deck, individual sleeping bunks, fan heaters to keep passengers warm and aesthetic interiors to make the bus feel nothing less than home while on the long journey.There were highlight spots along the journey, shopping days mapped out, and even music available if you wanted to throw a mid-journey party.
Here is the picture of one such incredible tour from '72-73, courtesy High Road Oz;
The longest bus route in the world spanned 20,300 miles, across 11 countries (at the time), and was covered 15 times between 1968-1976, on a luxurious Double-Decker bus nicknamed 'Albert'. The trip from London to Calcutta cost £145 for the overland portion of the full itinerary to Sydney, Australia. The route from one such odyssey in 1972-73;
Overland:
London (England)
Dover (England)
Zeebrugge (Belgium)
Antwerp (Belgium)
Frankfurt (West Germany)
Munich (West Germany)
Salzburg (Austria)
Vienna (Austria)
Zagreb (Yugoslavia)
Belgrade (Yugoslavia)
Sofia (Bulgaria)
Istanbul (Turkey)
Ankara (Turkey)
Trabzon (Turkey)
Tehran (Iran)
Mashhad (Iran)
Herat (Afghanistan)
Kandahar (Afghanistan)
Kabul (Afghanistan)
Rawalpindi (West Pakistan)
Lahore (West Pakistan)
New Delhi (India)
Agra (India)
Allahabad (India)
Banaras (India)
Calcutta (India)
Connecting flight to Rangoon, Burma, then a combination of train, ferries and streamers to Perth, Australia
Rangoon (Burma)
Bangkok (Thailand)
Penang (Malaysia)
Kuala Lumpur (Malaysia)
Singapore
Perth (Australia)
Sydney (Australia)
Sources : https://www.indiatimes.com/trending/social-relevance/bus-albert-london-kolkata-516851.html
3